Introducing
Alberto Abbate
Alberto always had an entrepreneurial spirit and founded Santa Maria Del Sur amongst other restaurants and shops in London. He's a big tech enthusiast & he always saw London as the city of great opportunities. In his spare time he draws. His favourite? Spending time with his daughter.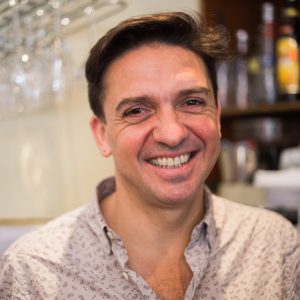 Introducing
Tomás Matos
Tomás was born in Portugal and is now Santa Maria Del Sur's manager. He moved to London in 2006 and prepares fantastic cocktails. He is passionate about football, ecology, activism and botanics.
Introducing
Yolanda Rodrigues
Yolanda was born in Portugal, grew up in Venezuela, and her parents are from France and Portugal. She studied cuisine in the prestigious Mariano Moreno school in Venezuela, and she's passionate about Argentine cuisine and desserts. But don't let her European roots fool you—Yolanda is a true Latin American at heart.
Introducing
Lyubomir Kosturkov
Lyubomir was born in Bulgaria, and his passion for the kitchen made him train in seafood, pasta, and steaks. He's also a bit of a fitness freak, and he loves to work out. But his true passion is animals, and he loves to walk the dogs of his friends.
Introducing
Rafael Rodriguez
Rafael was born in República Dominicana, and of course, he loves dancing salsa, bachata, and merengue. He's also a fantastic team player, and he brought happiness to our place. He is a great guy to have around. Always up for a good time, and always knows how to make people laugh.